Community service and volunteering are an important part of BrandVerity's culture. We volunteer 1% of our time each quarter to serving our community. We feel it's our responsibility to give back to the communities that house us, our families, and our business.
Not only are these events impactful for the organizations we're working with, they are incredibly impactful for our team. One can't help but get closer with a colleague after packing thousands of pounds of rice and oats at Northwest Harvest, or cleaning the facility and making lunch at the Union Gospel Mission. In the last few years we've also done work with incredible organizations such as Farestart, Washington Trails Association, and Tilth Alliance.
At the end of March, we volunteered our time with EarthCorps at Camp Long in Seattle. Camp Long is a 68-acre park, full of forest, trails, and outdoor educational areas for children and adults. Our mission on this bright and sunny day was relatively simple; clear a patch of forest from invasive Himalayan Blackberry bushes to allow the native trees and plants to thrive.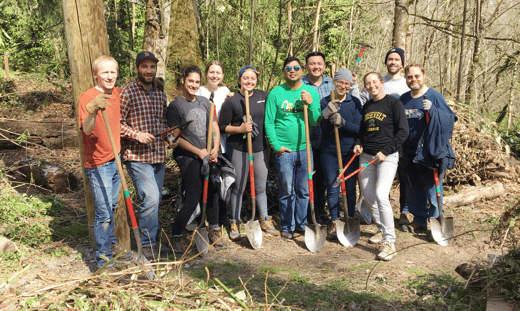 The brave work crew after a job well done.

The execution was anything but simple. For any non-Pacific Northwesters, Himalayan Blackberry bushes are incredibly thick and thorny. They grow like crazy around here and seem to seek out human hands and arms, attacking their human prey with annoying painful pricks. A perfectly placed thorn will pierce through a work glove and make you think twice about your angle of approach. To fully eradicate these pesky plants, you have to dig up their underground root ball.
We chopped high and dug low all afternoon and ended up clearing an area roughly the size of a baseball diamond. There were impromptu competitions held for "largest compost pile," "most empty beer bottles found," and "biggest root ball" – needless to say, we had a blast out there in the forest. Below you can see the results of our efforts!
About 1/3 of the area we were tasked with clearing before and after our intrepid team attacked the pesky Himalayan Blackberry bushes.
Want to learn more about working at BrandVerity? Visit our careers page!