Keywords are the base variable between all channels, and they are how a user communicates with a search engine. A lot of organizations strive to attain PPC and SEO synergy, but sharing keyword data remains the most important aspect of maximizing the effectiveness of these two strategies. Usually PPC and SEO are handled by two different teams, so it is important to set a regular cadence for collaboration and communication.
"93% of online experiences begin with a search engine"

Source: SEJ
Share Keyword Data


Here are 5 tips on how to share keyword data across PPC + SEO:
Coordinate PPC + SEO campaigns. This will give you double the data to analyze for opportunities.

Use keywords that are too expensive in the PPC space (e.g. non-brand terms) for SEO efforts.

Utilize keywords that have high conversion rates across both channels.

Don't forget that frequently used terms from site search can inform PPC keyword choices.

Test, test, and test. PPC ads are a great way to test organic keywords due to their exposure. Test strategic organic keywords in PPC as they generate immediate results on the effectiveness of the keywords (e.g. CTR, CVR, ROI).

Sharing PPC + SEO keyword data can also help obtain full coverage across the search demand curve: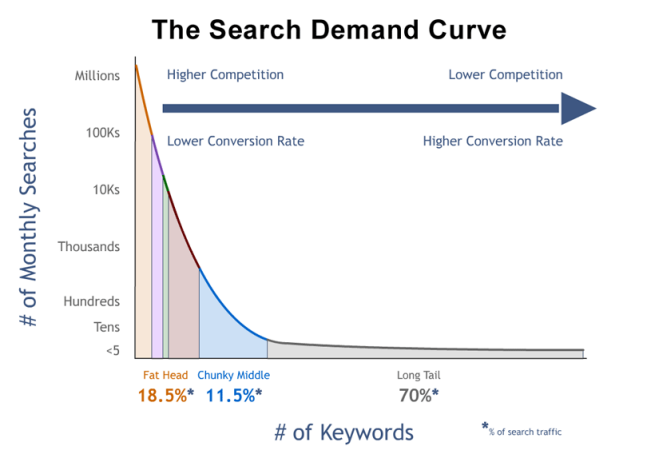 Source: Seo.com
Coordinate Strategies


A coordinated keyword strategy is a great way to maximize the effectiveness of these two channels. For example, good long tail keywords are hard to discover in PPC, but they are great candidates for SEO as you can build content around these terms without sacrificing PPC budget or traffic. Non-branded head terms might be hard to rank for given competition, but could be good candidates to add to PPC to make sure you have coverage on those terms. Having a blended strategy across the entire search demand curve helps capitalize on the high traffic and high converting terms from head to long-tail keywords.
Here are 5 ways to coordinate PPC + SEO keyword strategies:
Develop a branded and non-branded keyword strategy to support one unified digital strategy.

Set shared goals across strategies (CTR, CVR and ROI goals).

Use the data to help establish benchmarks and inform other strategies.

Increase communication between PPC + SEO resources to include sharing information on the following:
Messaging and content on organic landing pages and PPC landing pages

SERP position

Primary, secondary, tertiary terms

Competitive insights
Monitor and understand seasonality.
Get Visibility


Getting visibility
across your keyword ecosystem is crucial for performance. Normally, digital marketers have to look at separate PPC and SEO tools and marry the data between the two platforms in order to get an actionable visibility across the two channels. The
BrandVerity tool
offers the most visibility across your entire keyword landscape. We monitor paid search ads and organic links for a full view of head terms, the chunky middle and long-tail terms.
Our clients value the tool for the holistic coverage and can use the wealth of information to inform their PPC and SEO strategies. Based on the seed list of terms you provide, we show you who is matching on that term in a certain country.
You can see from the screen shot below that our tool provides very detailed information including the search engine, keyword, ad copy text, the Display URL, Final URL, Destination URL, and country. It shows that Zillow is using "Redfin" in the headline of the ad copy. These ads are in violation of Google Ad's Trademark rules:
If you click on the date in the Ad Details column, you can see more detailed information about where the ad was seen, the date, ad position, other copy by the advertiser, screen shots of the ad and landing page, Redirect URLs, and much more.
Why BrandVerity?


In addition to using our tool to monitor their brand terms and easily send infringement complaints based on the keywords they provide, here are 6 examples of how our clients use the information from the BrandVerity tool in both PPC + SEO:


Stay informed - see who is appearing on your terms in any country you choose across any major search engine.


Create competitive campaigns in PPC - BrandVerity provides the Display URL, Final URL, and Destination URL of the ads it finds so you see what domain is showing up along with the landing page and content in the ad copy.


Research competitor's offers and content in ad copy - see ad copy for who is appearing on your terms, research the content within the ad copy to help inform messaging across other channels (e.g. SEO, social), test variations of your own in PPC, and know if competitors are running geo-based offers/promotions.


Review Final URL/Destination URL - visit landing pages and see how the competition has their form set up. See what type of content they are using on their landing pages without having to manually find their PPC pages in the wild.


Monitor organic links - see what content is appearing in the organic search results by location.


Remain compliant - monitor for compliance issues whether it is trademark or partner infringements.

Ready to start gaining visibility into your keyword landscape? Our Paid Search Monitoring demo gives you full and customized access to BrandVerity's platform with your data.