Did you know that today marks 50 years since the Stonewall Inn Riots that catalyzed the LGBTQ+ Liberation Movement? To celebrate the 50th anniversary, the BrandVerity Seattle office honored the history of Pride and a few of its heroes.
The Pride tribute began with an educational presentation of where it all started. From the Lavender Scare of the 1950s and the Stonewall Inn Riots to the work done today by advocacy groups, it was important to honor and understand where Pride Month came from and how it has evolved over time. The presentation was paired with a rainbow-spread of fruit and was set up in our break room for the entire company to enjoy.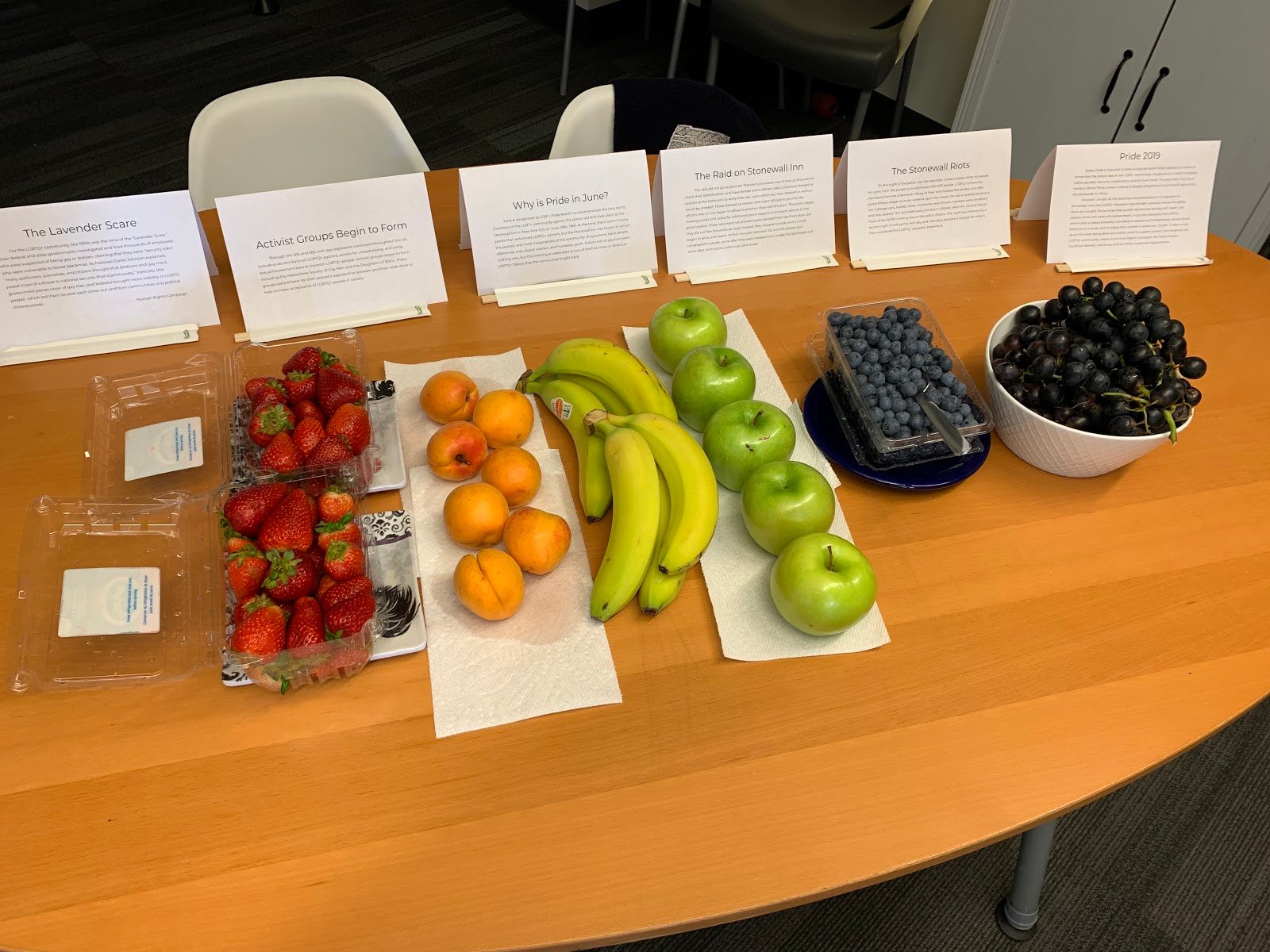 Information on the history of the LGBTQ+ movement with fruit in our break room.
Next, in addition to colorful decorations throughout our office, we turned our main entryway into a giant Pride display. We adorned two beams with decorations to emulate the gay pride and trans pride flags, and provided some educational information on the flags' origins/meaning. For the entire month of June, the first thing you saw when you entered the BrandVerity Seattle office were those two powerful flags — a prominent reminder of the significance of this month.
Our beautifully decorated office entryway in Seattle.
As a final tribute to LGBTQ+ Liberation and the celebration of Pride, BrandVerity renamed all of our conference rooms to honor heroes and trailblazers of the movement. Among the honorees were:
Marsha P. Johnson and Sylvia Rivera, two trans women of color who paved the way and dedicated their lives to the fight for LGBTQ+ rights.
Brenda Howard, a polyamorous, bisexual rights activist and sex-positive feminist who is known as the mother of Pride.
Harvey Milk, a civil and human rights leader who became one of the first openly-gay elected officials in the United States.
RuPaul Charles, a gay man and legendary drag queen who has brought queer culture to the mainstream and continues to advocate for the rights of his community.
Ellen DeGeneres, a lesbian comedian, talk show host, and often the first openly-gay person welcomed in American homes through her message of loving and being kind to one another.
Our conference rooms, normally named after national parks, now bear the names of Pride heroes.
To wrap up our festivities, BrandVerity will continue our tradition of gathering and watching the Seattle Pride Parade together on Sunday, June 30th.
Want to join our inclusive team? Visit our careers page!