We are excited to announce that BrandVerity has been selected as one of Built In Seattle's Best Small Companies to Work for in Seattle! This distinction is awarded to companies that have gone the extra mile in creating an awesome work culture that empowers employees to live their best lives.

The competition is scored in three categories: compensation, benefits, and additional perks, and BV shined in each! We take pride in committing ourselves to our customers, and that starts with taking care of our team. In fact, one of our company's core values is to support fulfilling lives for our employees.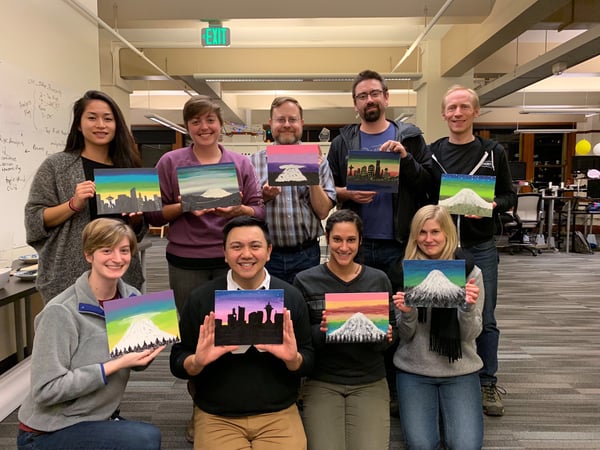 Painting Happy Hour! Who knew we had so many great artists at BV!
With our unlimited paid vacation policy, generous parental leave, company-wide volunteering, and much more, we are proud to have created a supportive and empowering work environment. However, probably the best part about working at BrandVerity is how much fun we have inside and outside the office.
Ulla gets serenaded (and surprised!) by a gorilla on her birthday!
Through weekly happy hour festivities, quarterly excursions, and pop up programs to brighten up a random Tuesday, there is always something to look forward to at BV. To see what we have been up to, or for pictures of our gorgeous view of Seattle, check out our Instagram.
Below are a few snapshots from various activities inside and outside the office.
Dev Team lets off steam at the Rage Room.
BV Ladies attend a weaving workshop.
Playing a game at our yearly retreat at the Huntley Lodge.
Donut eating contest at the Halloween party!
Customer Success Team hanging out at a local coffee spot near Pioneer Square.
We are honored to be featured on the list alongside so many great Seattle companies. Our congratulations to everyone included!