Have you ever been asked by your CMO or a client, "Why are we bidding on our branded terms when we rank Number 1 in organic?" You may find yourself using phrases like "PPC best practice" or "controlling SERP real estate," as you try to formulate a concise explanation.
During a recent webinar, "In Defense of Brand Bidding" we asked our panelists, Ian Orekondy, Director of Search Engine Marketing at Good Apple Digital and BrandVerity's Senior Customer Success Manager, Brendan Lash, to list their top 6 reasons for brand bidding and here is what they came up with:
#1 Increase incremental search traffic and conversion
This alone should be reason enough to keep brand bidding! Ian at Good Apple Digital believed that brand bidding positively impacted CPCs, CTRs, and conversions, but he didn't have the real world data to back up his assumption.
To find out if he was correct, he worked with one of his clients to conduct a split-market test to see if his hypothesis would be confirmed by the data. For comparison, he used California as a test market where he would change some variables while using the rest of the U.S. market as a control. In the month of August, he turned branded paid search off in all markets. Then, a month later, in September, they turned branded paid search back on ONLY in California, the test market. They then compared the impact on traffic (both paid and organic) in September in both markets.
Their hypothesis was that turning branded paid search on in California, the test market, in September would result in a greater and improved change in search visits and conversions than in the control market. That is exactly what happened. Turning branded search engine marketing on resulted in 9% more new customers in the test market vs. the control market, equating to 11 incremental conversions in the test market at a lower cost per incremental conversion than alternative media channels.
Want to see the data for yourself? Take a look at some of Good Apple Digital's research, including charts in the webinar recording.
#2 Respond to the rise of mobile
With mobile now comprising more than half of all search traffic – and in some cases accounting for close to 70% of search traffic – brand bidding becomes an especially important way to ensure that your brand is seen. The reduced total SERP real estate on a mobile device means that a paid ad can take up almost the entire SERP above the fold.
During the webinar, Ian showed the example below of a mobile SERP from a query using the branded term "nike."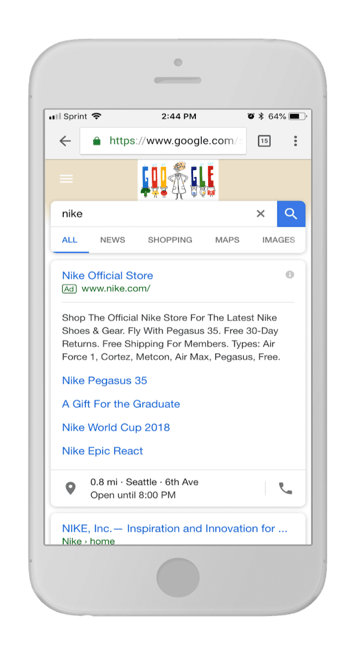 In this case, Nike was bidding on their brand name and therefore held the top position on the SERP. The Nike homepage also held the top organic spot, but due to the mobile format, the user would have to scroll to see more than just the primary link.
#3 Keep competitors at bay
If you aren't bidding on your own brand terms, your competitors might. Savvy competitors may not always bid on competitor terms, but if you don't bid on your terms, then they see an opportunity. Don't give them that opening. Brand bidding allows you to control your brand's real estate on the SERP.

Below is an example where the company Acuity Scheduling is bidding on Calendly's branded terms.

In this example, Calendly is potentially losing traffic to their competitor who appears above Calendly's organic result. And the picture is worse when you look at the mobile SERP below.
In this example, the Calendly site isn't even appearing above the fold. Bidding on your branded keywords can prevent competitors from diverting your traffic.
#4 Branded terms are inexpensive
Qualitatively, branded terms are inexpensive. Average CPCs for unbranded terms can range anywhere from under $1 to over $7, depending on the industry. The chart below from WordStream shows the variance in average CPCs across industries.

Branded terms tend to be a fraction of the cost of non-branded terms. Ian said branded terms for his agency's customers are usually 5-10% of the cost of unbranded terms, ranging from 5-12 cents up to $1. Although costs vary by industry, branded terms are almost always less expensive than unbranded terms, so just bid on them!
#5 "Compete" with affiliates and partners
Affiliates and partners can also negatively impact your traffic by bidding on your branded keywords. Brendan explained how they often advertise on a brand's trademarked keywords to poach the traffic headed to a brand's site. If you aren't advertising on your own branded keywords, you could be paying affiliates or partners for non-incremental traffic.
#6 Control your messaging
Paid ads give you the opportunity to craft your message and grab the attention of those searching for your brand. During the webinar, Ian walked through a desktop SERP showing Nike running a branded paid search ad on their brand term.
He pointed out the many benefits accruing to the Nike ad including:
They can promote the benefits of shopping online at Nike.com with free shipping and free returns.
By tailoring the ad to a geo-relevant retail location with the address, phone number and store hours, they can drive traffic to that store.
The ad is especially relevant based on seasonality with the sitelink "A Gift for the Graduate" given that it is graduation season.
Nike is aligning with their overall marketing campaigns around World Cup 2018, so they are supporting that effort in the ad.
The ad also gives them an opportunity to promote specific products – in this case the Nike Pegasus 35 and Nike Epic React.
In short, the paid ad unit is doing a lot of heavy lifting. Nike can take full control of this paid ad in a way that is not feasible or even possible with an organic listing.

These are only six of the many key insights from our brand bidding webinar. Interested in learning more about how to brand bid like a pro? Watch the webinar recording here.