When I speak with prospective customers about the benefits of our paid search monitoring solution, one thing I commonly hear is: "We don't need automated software; we are already monitoring and remediating issues manually." Another common refrain is: "Our agency handles all of that."
But when prospects see the examples of competitors infringing on their trademark by using branded keywords in the ad copy, they usually want to hear how I found them. They ask why they couldn't find those infringers despite their carefully orchestrated system of manual monitoring. Or they wonder if their digital agency was being upfront with them when professing that everything is under control.
Some companies and agencies are really good about regularly monitoring and submitting infringing ads to the search engines. But even the most diligent, can't find and stop all the bad behavior.
For example, one of our customers in a restricted content category had established a comprehensive and robust manual monitoring program. They had invested a lot of time and resources into monitoring their brand online. As part of their process, they spent at least one hour per week monitoring and submitting infringements to Google for takedown. Their monitoring team consisted of colleagues in different offices around the US conducting searches to help catch infringers who were using geo-targeting techniques to avoid detection. They had also cultivated working relationships with Google's trademark team.
For several years, they fought to protect their brand on Google, and were somewhat successful. However, when I showed them how BrandVerity's paid search monitoring solution submits takedown requests in bulk to Google, Yahoo, and Bing they were surprised at how fast it was. What had taken them hours a week for years only took us a few minutes, and included other search engines, which they had never addressed.
Another company, Lovesac, an American furniture manufacturer and retailer, believed their brand protection was being handled by their digital agency. Unfortunately, their agency's process is ineffective. Lovesac faces rampant trademark abuse from at least three of the top ten internet retailers, as well as several direct competitors.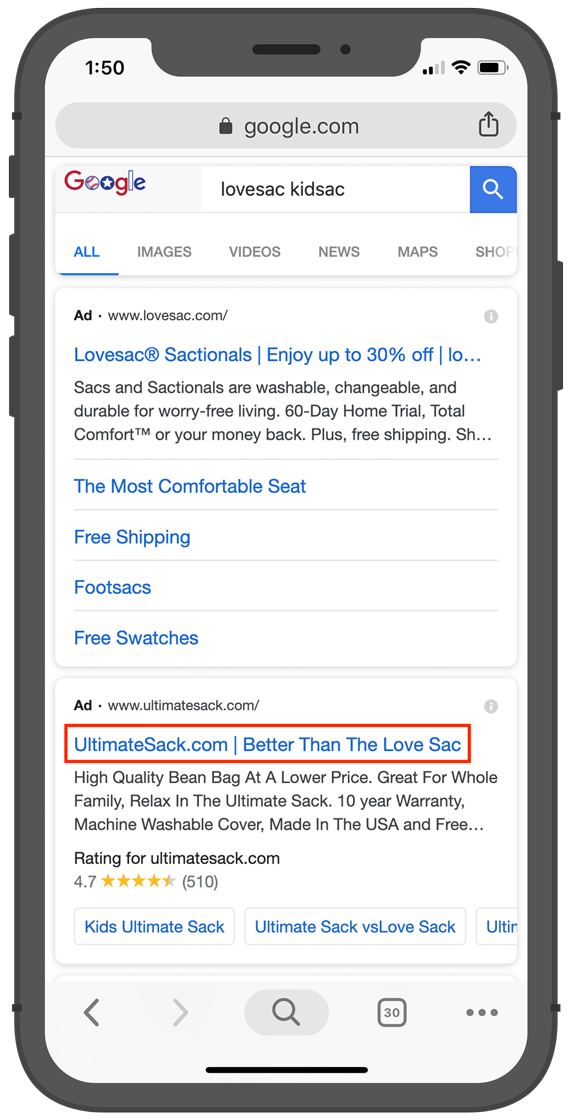 On this mobile Search Engine Results Page (SERP), Ultimate Sack is breaking Google's trademark rules by using the trademarked term "Love Sac" in their ad title.


Most of the time our system searched for "Lovesac," they did appear in the first position. This is important for any brand, but especially when other domains are attempting to mislead customers through brand infringement. In this example, Lovesac competitor Ultimate Sack is using the term "Lovesac" in a competitive manner to drive clicks, which goes against Google's policies one competitive brand use. This type of ad, can and should be removed.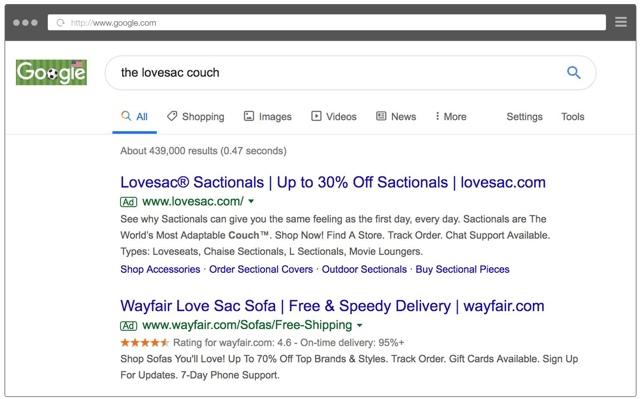 In this next example, Wayfair, which does not sell the Lovesac brand, is using "Love Sac", a slight misspelling of Lovesac, in their ad title. This is also in violation of Google's rules.
This type of abuse doesn't always divert clicks. In fact, it's probably safe to say it usually doesn't. But for larger brands with thousands of daily searches, it only takes a small percentage of lost conversions per day from competitive abusers enticing customers with steep discounts or false comparisons to add up to significant lost revenue. BrandVerity customers can expect most of these types of ads to disappear within a few months of deploying our technology.
In yet another example, one of our Fortune 1000 customers, had been manually monitoring their paid search, but found it very challenging. After signing up with BrandVerity, they saw the total number of trademark infringements dramatically drop on both Google and Bing.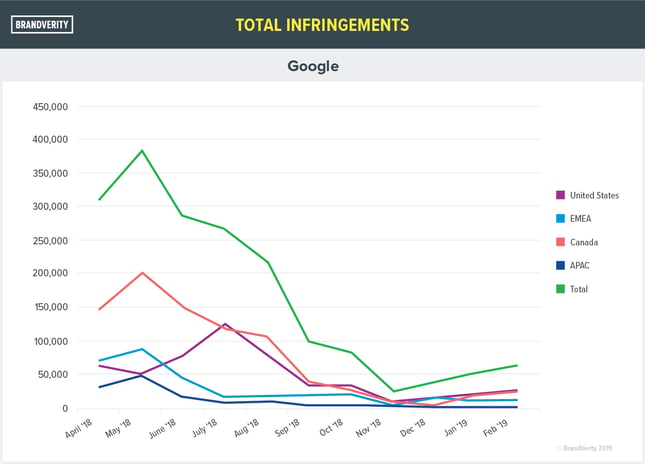 Trademark infringements decreased dramatically on Google after this customer began monitoring and submitting trademark complaints through BrandVerity's solution.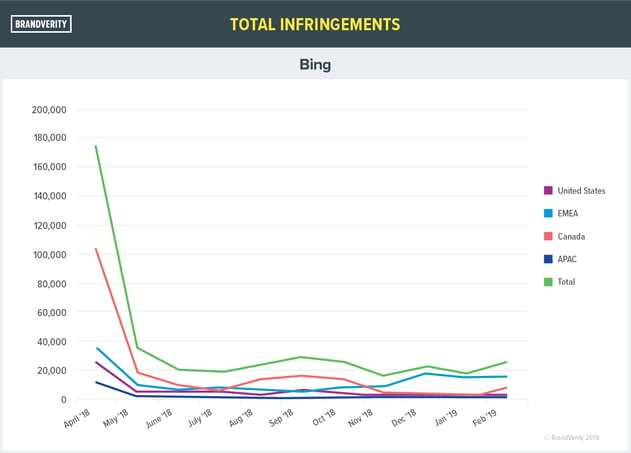 On Bing, there was a swift reduction in trademark infringements after this customer began using BrandVerity's paid search monitoring solution.
There are several reasons why manually monitoring your paid search can't be as effective as employing an automated solution.
First, a powerful technology can crawl through hundreds or thousands of SERPs several times a day, across geographies, on multiple search engines, on desktop and mobile. It's almost impossible for one person (and expensive and inefficient for a team of people) to replicate that type of data collection.
Consider the graphic below. If you were monitoring six keywords, twelve times a day across nine search engines and in three countries this adds up to a 1,944 searches EVERY day! Impossible. But an automated solution can easily handle this and much more.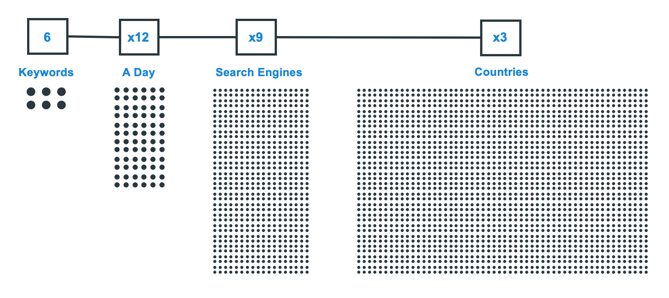 Some brands require more monitoring than others, but in order to catch those who are trying to avoid detection, you need to search from different geographies and timezones, which is very difficult to do, even if you have a geographically dispersed team to help you.
Second, when you monitor your paid search manually, you also have to prioritize and triage the highest risk ads. Since it takes such a long time to submit each ad, you may only submit the most egregious ones. With an automated solution, however, prioritization becomes a non-issue. You simply submit all ads that violate search engine rules, since submitting one ad or thousands of ads takes about the same amount of time.
Third, once you have monitored and found many instances of trademark abuse, you need to have a way to manage them. You also need a place to keep all the screenshots and URLs so that when you submit the complaint to the search engine you have all the required evidence. Putting together a list in a spreadsheet and taking screenshots of the landing pages where the infringements occurred is messy.
Fourth, taking action and remediating every infringement takes time. For information on how to manually submit a trademark infringement to Google, read our blog post that walks through the form and required fields. While this Google form for submitting trademark violations is quite straightforward, you need to fill out all four pages of the form for each violation. Our customers typically submit between 10 to several thousand trademark violations per month in many different geographies. Going through this submission process manually for each infringement is extremely time-consuming.
The BrandVerity paid search monitoring solution allows you to submit trademark complaints in bulk. Whether you need to submit one complaint, or thousands, the level of effort is practically the same.
Lastly, once you have submitted infringements for takedown, you need to track whether Google or another search engine took action on your requests. It's really important that you know the status of each request since Google won't allow you to submit the same request multiple times. Also, you want to be able to track the progress of your efforts. Again, this is extremely difficult to do manually.
I am always excited to speak with brands who are manually monitoring their paid search because this means they are proactively protecting their brand online. It is also extremely gratifying to show them how, with a fraction of the effort they are currently employing, they can build a much more airtight PPC compliance program and quickly get the desired results.
Want to learn how BrandVerity can help you scale your paid search monitoring efforts? Request a demo here.