We used the BrandVerity Paid Search Monitoring tool to look for trademark bidding on some of the most anticipated gifts of this holiday season including Apple Airpods, Amazon Echo, Hatchimals, and Super Mario Odyssey. We monitored branded keywords associated with these well-known products over the extended Thanksgiving weekend and through Cyber Monday.
What we found wasn't pretty. We'll go into specific examples later on, but here are some of the general findings:
The vast majority of trademark bidding came from major retailers such as Amazon, Kohl's, Target, Macy's, Walmart, and Best Buy. Most of what we saw looked legitimate, meaning that the ads all led to a landing page where customers could get information on a product that matched the ad they had clicked on.
Of the top advertisers, Amazon ranked first in terms of the greatest volume of trademark bidding. In other words, they were the most active brand bidders.
Outside of these top legitimate advertisers, we also also saw many questionable sites taking people to landing pages where the product they were originally searching for was harder to find. These sites were taking advantage of the holiday search volume surge, hoping to attract clicks and mislead consumers. Most of these sites were comparison shopping engine sites or websites with the words "Black Friday deal" or "Cyber Monday deal" in the domain name.
Apple Airpods
Here's how Kohl's was targeting the keyword "apple airpod" on Google: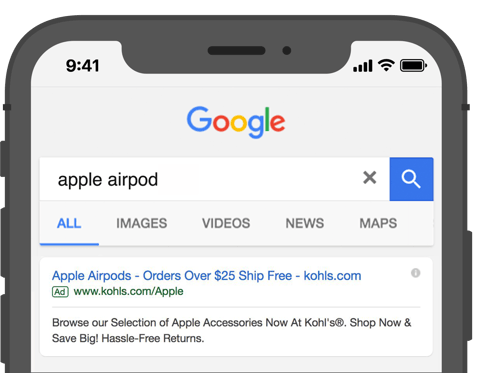 And here's the landing page that Kohl's takes you to from the ad:
This page is problematic in several ways:
Apple Airpods do not appear on the first page. You'll find a lot of Apple and air gardening products, but no Airpods.
The page does show other Apple ear buds, which are outlined in a red box above, but not the airpods that the consumer is searching for.

If the customer had clicked an ad from Best Buy instead, they would have found this:
The Best Buy ad took the searcher directly to the product that they were looking for, which is what these ads are supposed to do! The product shows up front and center, with pricing, imagery, and customer reviews. There is nothing on this page to distract the customer away from buying the product they were searching for.

Although Best Buy did a really nice job of giving customers the information they need to easily buy Apple Airpods, we can't tell by just looking at this ad if Best Buy is allowed to bid on Apple's keywords. Not every retailer has rights to bid on manufacturers' keywords. These types of provisions are outlined in a partner agreement between the manufacturer and the partner or reseller. But this time of year, with the increase in search volume, brands may not even notice that their resellers are increasing their brand bidding, or violating partner agreements.
Super Mario Odyssey
Super Mario Odyssey is a 3D platform video game developed and published by Nintendo for the Nintendo Switch. The game was released worldwide on October 27, 2017. Within three days of its release, the game had sold over two million copies worldwide.

Of all the products we monitored, the trademark bidding on brand terms related to Super Mario Odyssey and Super Mario games were the worst. In fact, what we found wasn't just trademark bidding, it was intellectual property theft. Two advertisers in particular, JoyLand and UGameZone are bidding on the many different variations of "super mario games." They are not selling actual games, but instead are brand bidding to draw people into a free game experience.

Below is a JoyLand ad targeting the keywords "super mario game." Notice Nintendo, which is the maker of all the Super Mario games, shows up fourth on the SERP!
When you click on the top JoyLand ad you come here:
As you can see, the various Super Mario brothers games don't appear above the fold. When you scroll down, there are several different Super Mario games, including one called "Super Mario 63," which is particularly interesting since Super Mario 64 is a legitimate Nintendo game that was published in 1996. While we only looked at trademark bidding on terms related to "super mario games" given that so many popular games showed up on this site, JoyLand is likely bidding on many different brand names to attract clicks.

After doing a little investigating with the "Whois Lookup" tool by Domain Tools, we found JoyLand registered its domain using "Domains By Proxy." They are therefore very likely trying to hide who they are.

Most people know that you need to pay to get a proper copy of a Super Mario Game. Nonetheless, this free site is enticing. Although the games on JoyLand won't be of the same quality as a real Nintendo game, they may be good enough for many gamers. But each time gamers go to JoyLand, the Nintendo brand suffers and the piracy continues unchecked. Some customers may also be unaware that the Super Mario games offered for free on JoyLand are not allowed by the Nintendo company. These gamers may therefore be confused when the JoyLand games differ slightly from the legitimate versions.
Amazon Echo
Now, let's have a look at the results from a search for "Amazon Echo" on Google. Here is one of the ads that appears from that search:
This ad directs customers to the following landing page:
Again, this landing page is problematic in many ways, but below are a few of the most egregious problems with this ad. They are outlined in blue in the screenshot above:
The site makes you click on a "See It" button in order to get more information about the product, instead of making it readily available and transparent. Rather than adding any value, this page acts as a middleman that requires an additional click.
The "Question & Answers" box on the right side is distracting and not helpful to the searcher.
The "Related Searches" section at the bottom is also distracting and not helpful to the searcher. David Gilmour, "Echo Weed Eaters" and chainsaws have nothing to do with Amazon Echo!
The header text "Compare & Save Upto" misspells "Up To" making the site look that much more questionable.
Hatchimals
Parents with young kids are probably aware of Hatchimals. But for those of you who aren't up on the latest hot toy trends, the Hatchimal is a furry bird-like creature that initially "lives" inside a toy egg. Kids "nurture" the egg until it hatches, which can take up to 40 minutes, and then "raise" it. The longer you play with it the Hatchimal, the more skills it acquires.

Here's how "Black Friday Deals" was targeting the keyword "hatchimals egg" on Google Mobile:
Clicking on the ad, takes you to following landing page.
This page is very confusing. Of the five products shown in the top row of results, only two of them are Hatchimal toys, and they are listed on eBay. The photos of the products are small and unclear and to find out more you need to click on the "View Deal" button. The page is providing no additional value to the prospective buyer. The original ad on Google claimed there was a 70% discount on Hatchimals and that the deal "expires soon" but when the consumer comes to this page, it's unclear where they are supposed to find this deal. The page is instead a set of listings to products, many of which have nothing to do with Hatchimals.
It's the most wonderful time of the year (for trademark bidders)
The four examples we highlighted give an idea of how bad it can get, but they are just a miniscule number of infringing ads we collected during a short time period. While trademark bidding occurs all year round, holiday trademark bidding is a serious problem. We typically see a 20-30% increase in trademark bidding during Q4.

We know you are busy right now with the holiday rush. Putting an end to trademark abuse may not be on the top of your to-do list. But the holidays will come and go, and when you come out of the craziness and look back at 2017, it would be helpful to see if trademark bidders targeted your brand. To get this information, you need to start monitoring now.

Sign up today for free branded keyword coverage over the holidays, so that you can get the full picture of the damage trademark abuse causes. We can talk you through the data in January.