The search engines' rules around trademark use in paid search ads in the United States are nuanced and complicated. Unless you work with them every day, as we do, it can be difficult to know when an ad complies with the rules.
What is crystal clear though is the frustration you have when you see a competitor showing up on the search engine results page (SERP) using your branded keywords. Infuriating? Yes, but is it allowed? It depends.
For example, is 3dcart's ad outlined in red below breaking any Bing Ads trademark rules?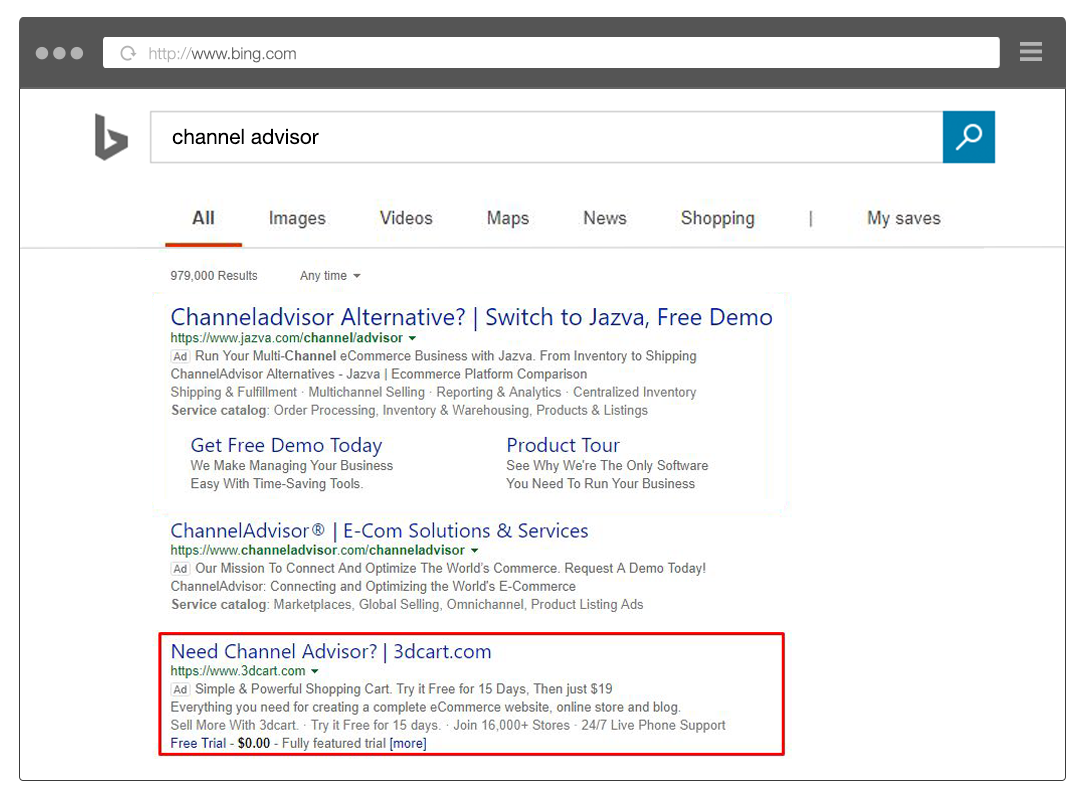 Clicking on the ad takes you to this page:

On this page, you see that 3dcart isn't a competitor to ChannelAdvisor, but instead an ancillary product. This page says that if a customer needs ChannelAdvisor, they may also need the 3dcart product. These types of ads are allowed by all the search engines.
Understanding the various policies, and how they differ by search engine, is central to taking action. You need to know what you can submit to the search engines for takedown and which ads require you to contact your partners to enforce partner agreements.
In the past, we have written about Google Ads trademark rules, frequently asked trademark-related questions, and the steps to manually submitting a trademark infringement to Google.
In this post, we'll go through the most important search engine rules concerning trademark use in PPC ads on Google and Bing. There are some regional variations with trademark rules and this post focuses solely on ads appearing in the United States. We'll show real examples to explain the rules and talk in detail about the different types of ads that commonly violate search engine rules.
The Rules
Rule #1:
You can (and many say you should) advertise on your branded keywords
There are many good reasons to bid on your brand, even if you are ranking #1 in the organic search results. Below is a great example showing how Foster Grant is bidding on its brand + product terms and is, therefore, able to secure top position on the SERP. If Foster Grant had not bid on its brand, the top two results on the page would have been Amazon and the site, Readerglasses.com. This is particularly important on mobile, where typically you only see one ad above the fold.



Rule #2:
You can use trademarked terms in the display URL
Trademark use in the display URL is allowed by both Google and Bing. In the example below, you can see how Adidas is included in the display URL after JCPenney. In response to a complaint about an Expanded Text Ad, Google may restrict a trademark from appearing in the subdomain of an advertiser's display URL. If they restrict it, this doesn't mean they will take down the ad, but they may remove the subdomain from appearing in the display URL.


Rule #3:
You can advertise on your competitors' branded keywords
While opinions differ on why and when it makes sense to bid on a competitor's branded keywords, the search engines allow it. In the example below, you see that the company Brilliance, a competitor to Blue Nile, is showing up in the SERP on a branded search for Blue Nile. A consumer, looking for Blue Nile's website, may not have heard of Brilliance, but now might click on their ad to see what they have to offer.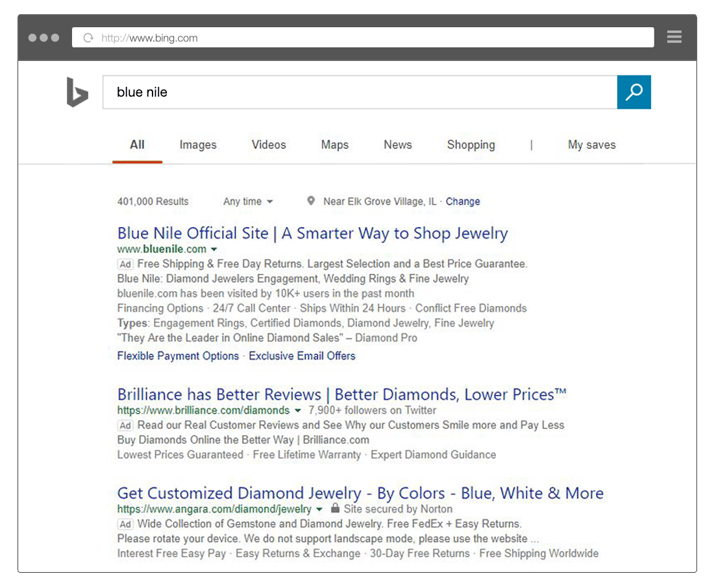 Rule #4:
You can't use trademark terms in ad text or ad title if the content on your site is not related to the trademark
In the example below, Shoppermart.net is essentially taking advantage of the HomeAway trademark to get traffic. Someone could very easily click on that ad thinking that they are going to HomeAway.com. But the ad takes you to a Shoppermarket.net landing page that doesn't provide any relevant information about HomeAway. This provides a really poor experience for the user who actually searched for the "HomeAway" term, so the search engines don't allow this type of behavior. This type of ad is not permitted by the search engines and should be removed.



Rule #5:
You can't use trademark terms in ad text or title if you are a competitor
In the example below, Acuity Scheduling is using Calendly in a competitive fashion. They say they're a better scheduler and link to their site, but they don't provide any relevant comparative information about how Acuity Scheduling and Calendly stack up against each other. Instead, they say that Acuity Scheduling is better than Calendly and encourage you to sign up. This is not allowed by the search engines and is a clear example of an ad that should be submitted for takedown.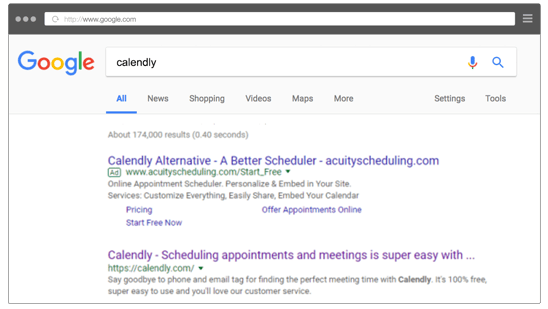 Common Types of Trademark Infringing Ads
There are several types of ads where questions about trademark use arise. We will discuss each type below with an example and discuss what types of actions you can take.

Search Arbitrage Ads

Search arbitrage is an ad that primarily leads to additional ads. Essentially, an advertiser will place a search ad that leads to a landing page featuring other ads. The arbitrager is paid when searchers click on the extra ads. The arbitrager pockets the difference between what they paid for the traffic and what they get paid for the ad clicks.

The example below shows a search arbitrage ad. About.com placed an ad on Google, targeting the trademarked term Club Med. If you click on the ad, you're then brought to a pre-populated search engine results page on About.com showing results that are also related to the trademark, including organic listings and more ads.

Google and Bing's stance is that these types of ads detract from the user experience on their search engines, and therefore they don't allow them. In the past, Yahoo was inconsistent about taking action on these types of ads, but we predict that with Bing now being the sole advertising platform for Yahoo and AOL ads, it will become easier to take action on search arbitragers on Yahoo and AOL.
Search arbitrage is often one of the most prevalent types of trademark abuse our customers' find on their trademarked terms, and they can see a huge reduction in ads like these on Google and Bing by persistently submitting them to the engines for takedown.
Marketplace Ads

Some marketplace ads comply with search engine trademark rules and others do not. In the case above, if you click on the ad and it takes you to a landing page where you can purchase authentic Burlington Coat factory apparel, then this ad would be allowed, even though Amazon is using the trademarked term "Burlington Coat Factory" in the ad copy.
Google's policy for resellers is that they may use trademarks in the ad text if "the ad's landing page is primarily dedicated to selling (or clearly facilitating the sale of) products or services, components, replacement parts, or compatible products or services corresponding to the trademark. The landing page must clearly provide a way to purchase the products or services or display commercial information about them, such as rates or prices."
And Bing's policy is even simpler: "Microsoft allows the fair use of trademarks in ad text such as use of a trademark by a reseller of authentic goods or services."
But marketplace ads that use trademarked terms can be taken down if the items associated with the trademark aren't available on the landing page.


Affiliate or Coupon Code Sites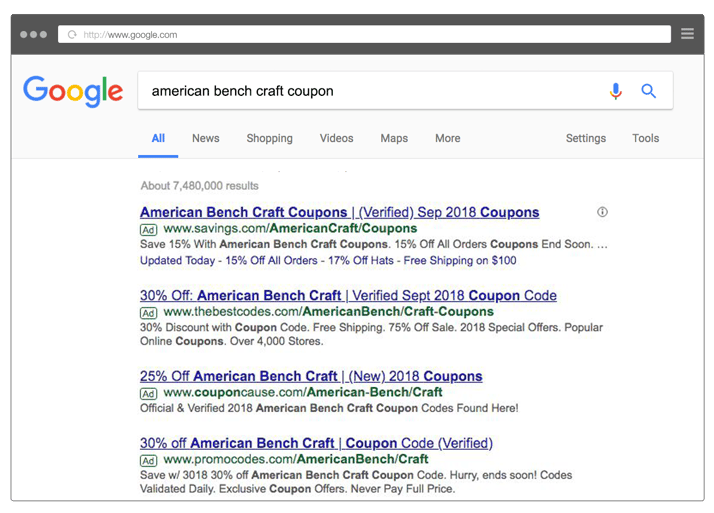 In the example above, all four coupon code sites are using the "American Bench Craft" trademark in their ad copy. By Google's policy, if the ads contain the aforementioned coupons, then the ads comply with their rules.
What if American Bench Craft has affiliate agreements in place with each of these coupon sites that explicitly state that no one can outrank American Bench Craft's home page? Can American Bench Craft submit these coupon ads to Google for takedown?
The answer is no. Advertisers sometimes think they can present their affiliate agreements to the search engines and then the search engines will take action to enforce those agreements. But Google and Bing do not enforce affiliate policies. The brand can contact the coupon code sites directly to remove ads that break the rules outlined in their affiliate agreements.
Review Sites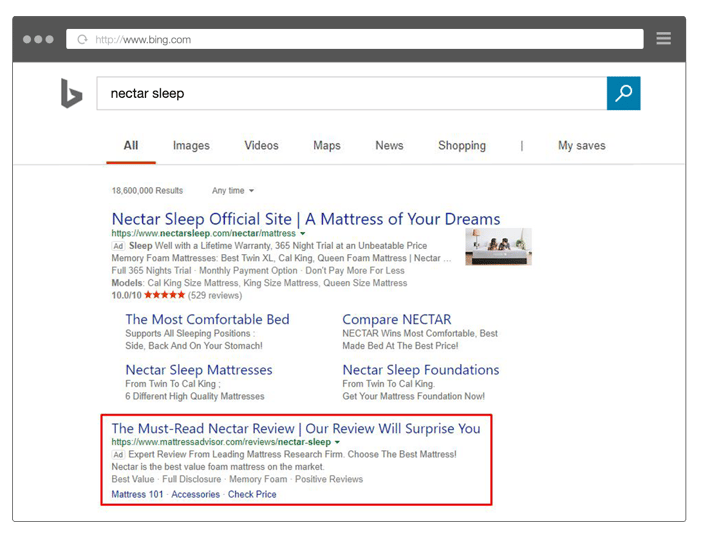 In the case above, Mattress Advisor is using the Nectar trademark in their ad copy. If Mattress Advisor is a true and legitimate review site, then this type of trademark use is allowed by both Google and Bing.
There are times when competitors create fake review sites to make their own products look better than the others. In those cases, if you can prove to the engines that the review sites are not legitimate, then you could request that your trademark not be used in the ad copy.
But in cases where the review site is authentic and the site provides informative details about products and services corresponding to the trademark, such as product reviews, then Google and Bing do allow this type of trademark use.
Clear as mud, right?
Even if you understand each of these rules and examples, it can still be frustrating and time-consuming submitting ads for takedown. Using a tool like BrandVerity's Paid Search Monitoring solution to find and categorize the thousands of ads infringing on your trademarks makes it much easier. Our Customer Success team also has deep subject-matter expertise and strong relationships with the trademark teams at the search engines, which help ensure a high success rate of takedown for the ads submitted through the BrandVerity tool.
Want to learn more about how we can help you protect your trademarked terms on Google and Bing?
Related Posts: